Introduction
Cell migration and invasion are critical parameters in the metastatic dissemination of macrophage and cancer cells, the major cause of death in some diseases patients include cancer and tumor (Darvin et al., 2015). Wound healing is a complex processes that inflammation, re-epithelialization, tissue and matrix formation (Shan et al., 2014). Signal transducers and activators of transcription (STAT) are a family of transcription factors activated by several inflammatory cytokines and growth factors (Darvin et al., 2015). STAT3 plays a role in response to growth factors and cytokines such as interleukin 6 (IL-6) (Geiger et al., 2007). Also, STAT3 is phosphorylated by receptor-associated Janus kinases (JAK), form homo- or heterodimers, and translocate to the cell nucleus where they act as transcription activators (Kuchipudi, 2015). Recent research have reported the potential of several extract and/or compounds from natural products in inflammation treatment by targeting STAT3.
Commiphora molmo (Myrrh) is a yellow aromatic oleo-gum resin obtained from the stems of plants of the genus Burseraceae family included Commiphora abyssinica and Commiphora myrrha (Hanuš et al., 2005). These myrrh is already known a noble plant in many country of Asian and Europe, furthermore, it has been used as a traditional medicine that biological activities include antioxidant, antibacterial, anti-nociceptive, and anti-ulcer (Dolara et al., 2000). However, anti-inflammatory activity pertinent to migration of myrrh has little information until now. Therefore, we investigated the suitability of extract of processed myrrh as a functional agent for suppressing the expression of LPS-induced pro-inflammatory mediators. As a result, the myrrh extract has strong biological activity, so it is considered that it can be used as a potential bio-activities material in the industry.
Results and Discussion
In the present study, the myrrh was selected to investigate anti-inflammatory effects on LPS-induced stimulation, as the myrrh had higher induced migration on macrophage cells. The cells were treated with the myrrh (1, 5, and 10 μg/mL) prior to LPS. All extract fraction of myrrh has no cytotoxicity (Fig. 1). In addition, all extract fraction of myrrh inhibited nitrite contents, ethanol and ethyl acetate extracts which were the highest activity (Fig. 1). To investigate whether some extract fraction such as water, ethanol, ethyl acetate, hexane, and butanol could induce macrophage cell migration, we examined the effects of myrrh extracts on the migration of macrophage cells by wound healing assays. As shown in Fig. 2A and B, myrrh extracts induced the migration of J774 cells. Western blot analysis showed that the LPS induced STAT3 is reduced in myrrh ethanolic extract treated with at 1, 5, and 10 μg/mL on J774 cells (Fig. 2C). Further, we measured the levels of JAK2 and VEGF (Fig. 2C). The phosphorylated STAT3 by IL-6 translocate into the nucleus, where these participate in the expression of pro-inflammatory cytokines such as interferon gamma (IFN-γ), interleukin-17 (IL-17), and interleukin 1 beta (IL-1β) (Kuchipudi, 2015; Darvin et al., 2015). IL-6 is well-known for activating immunity and inflammation through the binding to IL-6 receptor and dimeric gp130, which subsequently phosphorylates JAK2, STAT3, and extracellular-signal-regulated kinase (ERK) (Oh et al., 2014; Neurath and Finotto, 2011).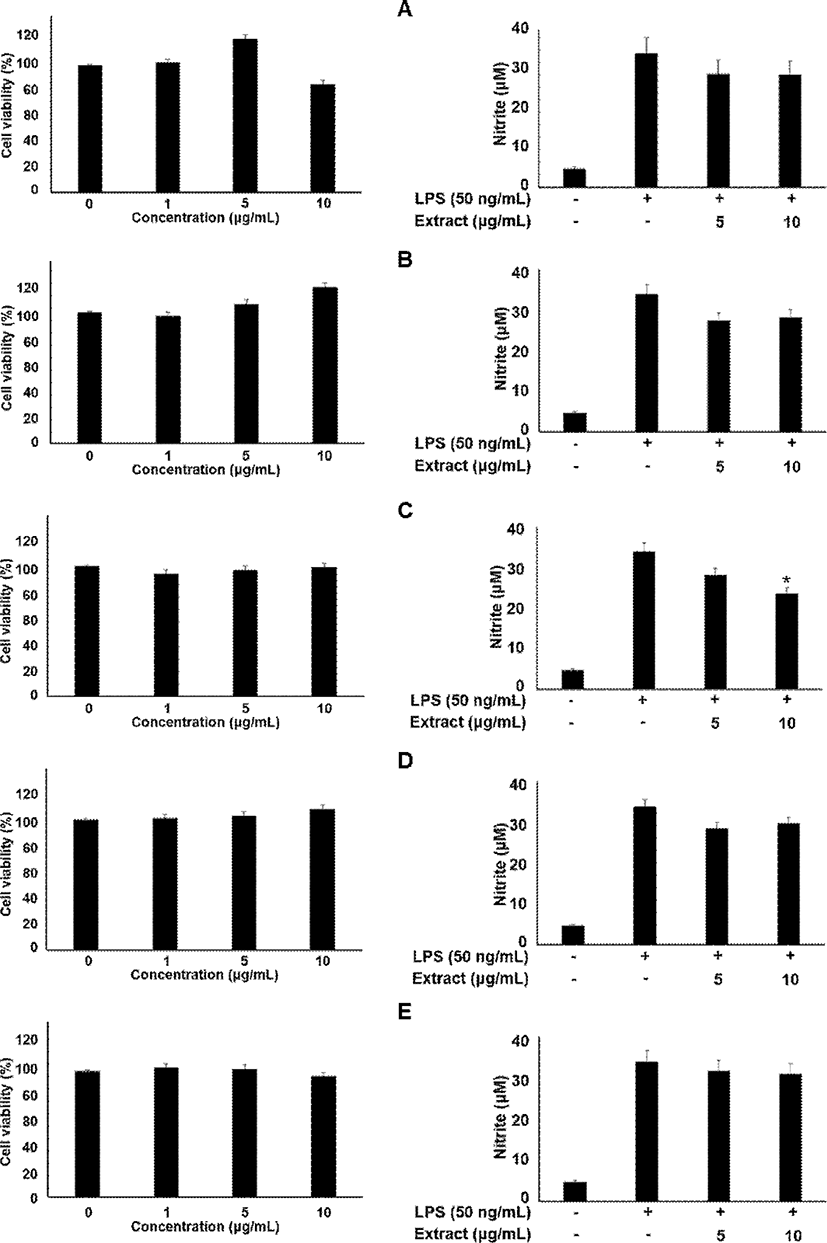 Download Original Figure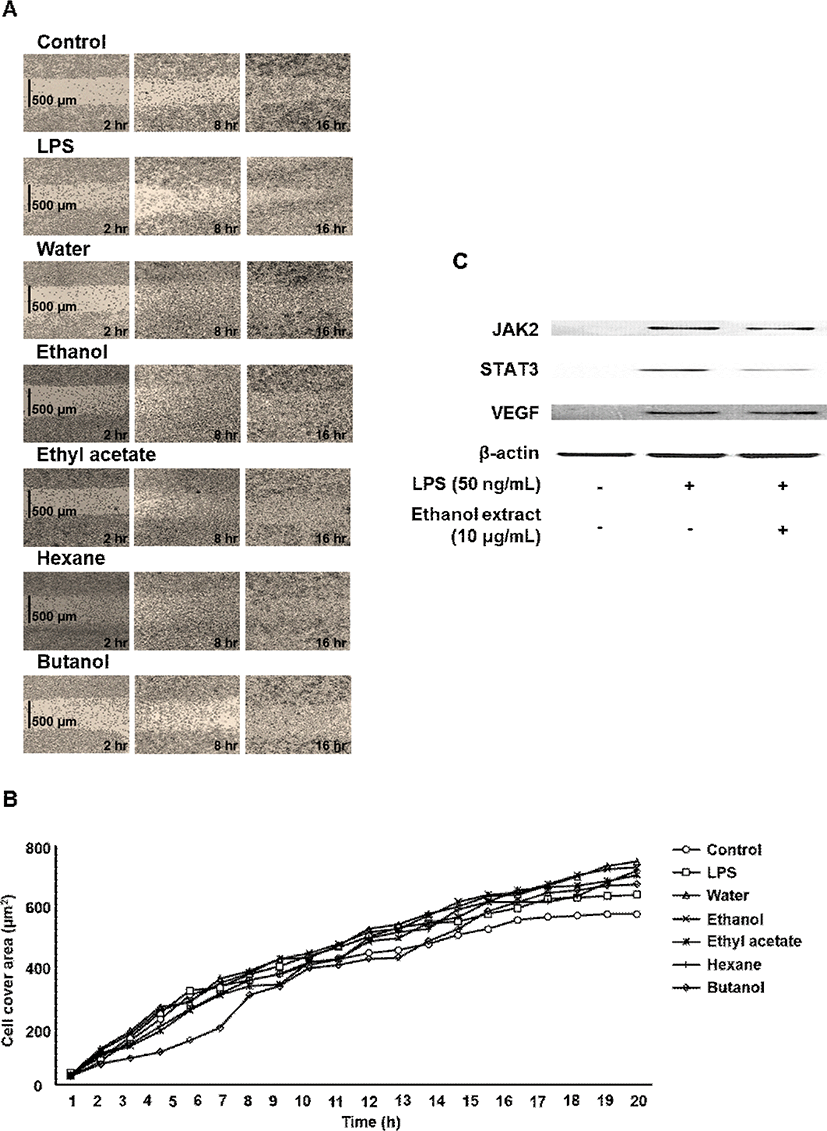 Download Original Figure
Based on these data, we inhibitory effect of some protein by inflammatory disease from myrrh, its induced cell migration. Also, other downstream signaling molecules involved in the LPS pathway may be inhibited by suppression of phosphorylated JAK2, STAT3, and VEGF by myrrh may be responsible. However further studies are needed to elucidate the precise mechanism in vitro and in vivo.